Dr. Julia Markus, a core faculty member of the  MFA in Creative Writing program, is scheduled to present a reading of her new book, Lady Byron and Her Daughters (W.W. Norton & Company), at the Astoria Bookshop located at 31-29 31st St, Astoria, NY. 
In this, her eighth book, Professor Markus chronicles Lady Byron's transformation from a neglected wife into a figure of incredible resilience and social vision at the end of her unhappy and tumultuous marriage to the poet Lord Byron. Lady Byron raised and educated her daughter, technology pioneer Ada Lovelace, on a strict diet of science and mathematics, and she also saved from death her "adoptive daughter" Medora Leigh, the child of Lord Byron's incest with his sister.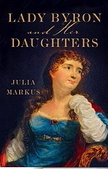 On November 18 Hofstra will host a reading and book signing in honor of Professor Markus as part of its Great Writers, Great Readings series.