The 200th anniversary of the birth of Ada Lovelace, a 19th century science and technology pioneer, falls on the same date that a biography of her mother, Lady Byron, is being published by a Hofstra English professor. Lady Byron and Her Daughters (W.W. Norton & Company) by Dr. Julia Markus, a core faculty member of the  MFA in Creative Writing program, is described as a startling reevaluation of Lady Byron's complex life as single mother and progressive force. The publication date of October 13 is celebrated around the globe as Ada Lovelace Day, to commemorate the contributions of women to the STEM fields.
Professor Markus writes that Lady Byron transformed herself from a neglected wife into a figure of incredible resilience and social vision at the end of her unhappy and tumultuous marriage to the poet Lord Byron. A poet herself, as well as a talented mathematician, Lady Byron raised and educated her daughter on a strict diet of science and mathematics. Lady Byron also saved from death her "adoptive daughter" Medora Leigh, the child of Lord Byron's incest with his sister.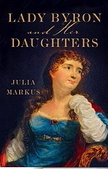 Friday, October 16, at 5 p.m. Professor Markus will deliver the prestigious Leslie Marchand Lecture, presented by the Byron Society of America, in New York City. This will take place at the Lincoln Center campus of Fordham University in the South Lounge. RSVP online and get more information.
On November 18 Hofstra will host a reading and book signing in honor of Professor Markus as part of its Great Writers, Great Readings series.
Lady Byron and Her Daughters is Dr. Markus' eighth book. She is a recipient of the Houghton Mifflin Literary Award and grants from the National Endowment for the Arts and the National Endowment for the Humanities.