Dr. Julia Markus, professor of English and a core faculty member of Hofstra's MFA in Creative Writing program, will see the publication of her new book, Lady Byron and Her Daughters (W. W. Norton & Company), on October 13, 2015, – a date that will be commemorated around the globe as Ada Lovelace Day, in honor of the 19th century female science and technology pioneer who was the daughter of Lord and Lady Byron. This year is the bicentenary of Ada Lovelace's birth.
The book is described as a startling reevaluation of Lady Byron's complex life as single mother and progressive force. After the end of her tumultuous marriage to the poet Lord Byron, she transformed herself from a neglected wife into a figure of incredible resilience and social vision. A poet and talented mathematician, Lady Byron raised and educated a daughter who – from the earliest age – was fascinated by science and mathematics. She also saved from death her "adoptive daughter" Medora Leigh, the child of Lord Byron's incest with his sister.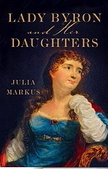 Professor Markus, who has served on the Hofstra faculty full time since 1985, is fielding multiple invitations around the world to speak about Lady Byron. She will deliver the annual Leslie Marchand Lecture, presented by the Byron Society of America, in New York City on October 16 and speak at DePaul University in Chicago on November 5. On November 18 Hofstra will host a reading and book signing in her honor as part of its Great Writers, Great Readings series. In December she will give addresses at Oxford University and Bath University in England.
Lady Byron and Her Daughters is Dr. Markus' eighth book. She has previously written four novels – Uncle, American Rose, Friends Along the Way and A Change of Luck – and three critically acclaimed biographies: Dared and Done: The Marriage of Elizabeth Barrett and Robert Browning; Across An Untried Sea: Discovering Lives Hidden in the Shadow of Convention and Time; and J. Anthony Froude: The Last Undiscovered Great Victorian. She is a recipient of the Houghton Mifflin Literary Award and grants from the National Endowment for the Arts and the National Endowment for the Humanities.
Started in 2009, Ada Lovelace Day is an international celebration of the achievements of women in science, technology, engineering and mathematics. Ada Lovelace Day has been referred to as the "first programmer" and the "prophet of the computer age." She described herself as a "poetic scientist," as she examined how individuals and society relate to technology as a collaborative tool.